NEED AN ELECTRICAL PANEL UPGRADE IN ORELAND, FLOURTOWN, BLUE BELL & HORSHAM, PA?
WE'LL INSTALL AN ELECTRICAL PANEL THAT SUPPORTS YOUR LIFESTYLE
Today's homes have more devices that use more electricity than ever before. Can your electrical panel keep up with the demand? If not, Michelbacher Contracting Electrical Service can schedule an electrical panel upgrade at your home in the Oreland, Flourtown, Blue Bell & Horsham, PA area.
Schedule your commercial or residential electrical panel replacement today.
3 SIGNS YOU NEED A SERVICE PANEL UPGRADE
So how do you know when your system is due for an upgrade? It's time for an electrical panel upgrade when:
Your faulty wiring causes flickering lights or chars power outlets.

You're installing energy thirsty appliances like air conditioners and refrigerators.

You find yourself plugging everything into extension cords and power strips.
Failing to upgrade your system could cause fires or damage that could be avoided with an electrical panel replacement. Protect your property and save money in the process – call Michelbacher Contracting Electrical Service in Oreland, Flourtown, Blue Bell & Horsham, PA today to arrange for a service upgrade.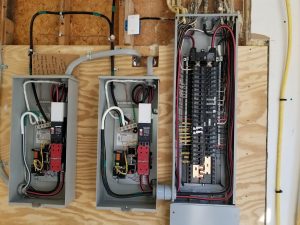 Have you noticed problems with your electrical system? Is your interior lighting dim or in need of an upgrade? Michelbacher Contracting Electrical Service is ready to help with all your electrical needs in the Oreland, Flourtown, Blue Bell & Horsham, PA area.
Call on us for electrical services at your home or workplace. We'll provide you with all the services you need and leave your home cleaner than we found it.
Do you need help with electrical maintenance? Fill out this form to get in touch.